Italy: assisted dying debate reignited
Comments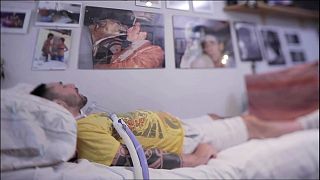 The case of Fabiano Antoniani has reignited the debate about assisted suicide in Italy.
The Tetraplegic Italian DJ ended his life in Switzerland on Monday (February 27), as politicians in Rome delayed talks on a "living will" law for a third time.
Many MPs on the left-wing said they are committed to passing the legislation, but the right-wing is firmly opposed.
Secretary of the Italian Left, MP Nicola Fratoianni, told the press:
"The umpteenth postponement of the discussion on a living will is a shame. I'm ashamed to be a citizen of this country, a member of this country's Parliament."
However, Maurizio Lupi, an MP for the right-wing New Centre-Right party was adamant the State must not allow assisted dying or euthanasia.
"The State cannot accept and legalise suicide. I believe we must strongly and clearly understand that the State has a task: not to leave anybody alone who is in such conditions," he said.
Thirty-nine-year-old DJ Fabo sustained his injuries in a car crash in 2014.
He had appealed to President Sergio Mattarella for the right to die and, shortly before his death, criticised Italy for failing to pass laws on end-of-life issues.