Is Malmo the 'rape capital of Europe'?
Comments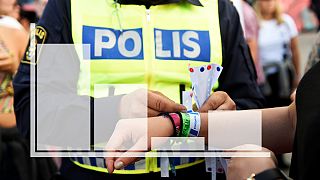 Donald Trump's terrorism-related claim about 'what happened last night in Sweden' has put the spotlight on crime in the Scandinavian country.
It has led to claims from British MEP Nigel Farage, a key ally of Trump's, that there is a link between the number of migrants Sweden has accepted and a rise in sexual crime in the country.
He said on his LBC radio show: "Pro rata Sweden has taken more young, male migrants than any other country in Europe and there has been a dramatic rise in sexual crime in Sweden, so much so that Malmo is now the rape capital of Europe."
Malmo in Sweden is the rape capital of Europe due to EU migrant policies. Anyone who says there isn't a problem is lying to you. pic.twitter.com/Aw7GvsECeX

— Nigel Farage (@Nigel_Farage) February 20, 2017
But, what do the figures say?
Sweden had 162,000 asylum applications in 2015 and one of the highest figures in the EU when it comes to requests per million inhabitants.
Of the 162,000, around 46,000 were male aged between 18-34, according to Eurostat.
The number of rapes has increased in Sweden.
UN data shows police recorded 64.9 rapes per 100,000 Swedish inhabitants in 2014, by far the highest number in Europe, and up from 25 in 2003.
But the Swedish government says the country's rape figures are higher for two main reasons: its laws are tougher on rape, which, it claims, makes comparisons difficult with other countries and it encourages people to report offences.
Sweden changed its sex crime legislation in 2005, making the legal definition of rape much wider.
This saw the number of rapes recorded by police per 100,000 inhabitants increase, from 25.2 rapes in 2004, to 41.9 a year later.
But the increase came well before the rise in the number asylum applications.
At first glance, there appears to be a closer link between immigrants to Sweden and the number of rapes recorded by police per 100,000 inhabitants.
However, again, the rise in the number of rapes happened a year before the hike in immigrants in 2006, which saw nearly 96,000 people arrive into the country, up from 65,229 the year before. Around half the increase was down to migrants from other European countries, Eurostat data shows.
Meanwhile figures from the Swedish National Council for Crime Prevention show rapes per 100,000 of population in Malmo peaked 2010, over the decade to 2016.
Meanwhile provisional statistics for 2016 indicate that Malmo had less rapes per 100,000 inhabitants than Gothenburg.