Syria: at least 11 dead in suspected Idlib airstrike
Comments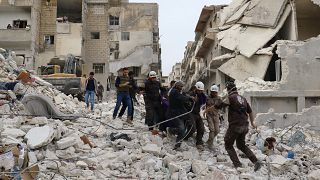 At least 11 people have been killed by an airstrike in the Syrian rebel-held province of Idlib, activists say.
Footage filmed earlier on Monday showed bodies being pulled out of the rubble of a flattened apartment block in the northwestern town of Areeha.
The Syrian volunteer search-and-rescue group known as the White Helmets said 15 people had been killed in the air raid – blamed on government or Russia jets.
The latest attack comes despite a nationwide ceasefire brokered by Moscow and Ankara in December.
A wave of bombings over the weekend has rattled peace talks in Geneva which began last week.
Earlier the main opposition group taking part in the negotiations in the Swiss city accused the Kremlin of breaking its promises and demanded face to face talks with Russian officials.