Japan tackles its workaholic culture
Comments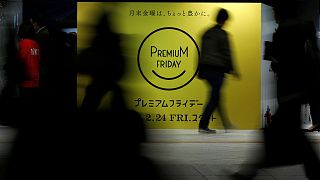 A small number of companies in workaholic Japan are getting creative with ways to get their employees to leave early.
The government has launched the "Premium Friday" campaign encouraging firms to let workers out a few hours early on the last Friday of each month.
This is so they can spend money on shopping and leisure to help boost the economy.
Japan clocks out early for 'Premium Friday' https://t.co/SEy9p7HTzRAFP</a> <a href="https://t.co/KA83cd2vmB">pic.twitter.com/KA83cd2vmB</a></p>&mdash; AFP Tokyo (AFPTokyo) February 24, 2017
It is part of a broader push by the government to reduce working hours and comes after the suicide of an employee at an ad agency was declared as "death by overwork."
Japan tries to get workers out of the office early with "Premium Friday" https://t.co/tJHcaze9Qopic.twitter.com/COKhGFQBmO

— Bloomberg (@business) February 23, 2017
Rocky
Some employers have already heeded the call.
Workers at one company in Tokyo hear the theme tune from the film "Rocky" playing over speakers at 1800 every day as a sign they can leave.
Another, an IT consultancy, has a no-overtime day once a month.
Violators must wear a purple "cape of shame" with gold stars.
The Tokyo Metropolitan Government turns off the lights at 8pm to make people leave.
Leasing company Orix Corp plans to offer up to 50,000 yen for employees who use at least five leave days in a row.
How to spend Japan's first 'Premium Friday'? Train rides with beer and bentos, or cheap matchmaking/cancer checks. https://t.co/UYan5TF5U4pic.twitter.com/9IzLlgr6kt

— Anna Fifield (@annafifield) February 24, 2017
The exception, not the rule
These examples remain the exception and not the rule.
In Japanese working culture, workers are judged by the amount of "face time" they put in.
They feel pressure not to leave before the boss.
Overtime
A government white paper released in October showed that almost a quarter of companies had employees who had worked more than 80 hours of overtime in a month.
This is the official threshold for the risk of "karoshi" or death by overwork.
To plug loopholes in the employment laws, officials have submitted a proposal to limit overtime to 720 hours a year, or an average of 60 hours a month.
However, some are concerned that less overtime could hurt workers and, by extension, consumer spending, in the form of lower pay.