Tesla says on track for volume production of Model 3 electric car
Comments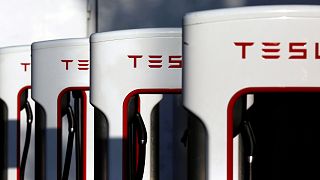 Tesla has reassured investors by confirming that its vital mass-market Model 3 electric car is on track to be produced in large number by September.
There had been concerns that volume production would be delayed until next year as Tesla has struggled to meet previous forecasts and deadlines.
Close to the edge
However the carmaker's operations continued to burn through cash, and Chief Executive Elon Musk has admitted that he may ask investors for billions more soon.
"According to our financial plan, no capital needs to be raised for the Model 3 but we get very close to the edge," Musk told investors on a conference call.
"We're considering a number of options but I think it probably makes sense to raise capital to reduce risk," Musk said.
That didn't seem to worry Wall Street, nor did its fourth quarter losses which narrowed to $121.3 million (114.6 million euros). Tesla's shares rose on Wednesday finishing the session up 1.6 percent.
Tesla said it would produce over 5,000 Model 3s per week "at some point in the fourth quarter", and 10,000 vehicles per week "at some point in 2018".
Model 3 production: hope to be 1000 per week in July, 2000 Aug, 4000 per week in September #tesla#yearofthemodel3pic.twitter.com/vAqCorf6T0

— Model 3 Owners Club (@Model3Owners) February 22, 2017
Musk reiterated that Tesla still planned to deliver 500,000 cars in 2018 and one million vehicles by 2020.
The public might not see the final version of the Model 3 until as late as July, when limited production begins, Musk said.
The company also announced its Chief Financial Officer Jason Wheeler is leaving after doing that job for just over one year.