Sauber put new F1 car through its paces
Comments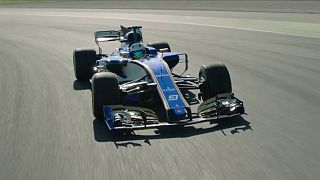 Sauber have been putting their new car through its paces on the track, and will be hoping for a better season following a 2016 to forget.
The Swiss Formula One team filmed these test runs of its C-36 Ferrari on the tarmac of in Catalunya in Spain.
READY, SET, GO! The Sauber C36-Ferrari hits the track! Visit https://t.co/s7pAYD04Gy for photos and more #25YearsInF1#F1pic.twitter.com/anTrnnZcTh

— Sauber F1 Team (@SauberF1Team) February 22, 2017
Twenty-two-year-old German Pascal Wehrlein joins Sauber for his second F1 season, alongside Marcus Ericsson, who has been with the team since 2015.
Sauber's new-look car features blue, white and gold livery. And following drastic F1 rule changes, will be quicker than its 2016 cousin.
New era, new car, new regulations – Read more on: https://t.co/vxbqDq4Ovn#F1#25YearsInF1pic.twitter.com/CCwMyq0pFl

— Sauber F1 Team (@SauberF1Team) February 20, 2017
The team only finished in the points on one occasion last year, coming tenth out of eleven in the overall standings.
Ericsson said: "It's very difficult in Formula One to put, race-wise, aims because you don't really know where you stand compared to your competitors ahead of the first race really.
"But as a team, we want to be back in the middle of the field and fight there, and fight consistently for points so that's the first aim, to be a consistent midfielder, and then be there every weekend fighting for points.
"That's where we need to get back to."