Bosnia moves to challenge ruling clearing Serbia of genocide
Comments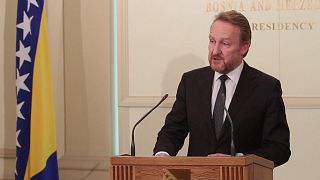 Bosnia has formally lodged its request at The Hague for a review of a UN court ruling that cleared Serbia of genocide in the 1990s.
The 2007 judgement by the International Court of Justice exonerated it of direct responsibility for killings, rapes and "ethnic-cleansing" in Bosnia during the break-up of Yugoslavia.
"The intention of the revision is to establish the truth about what happened more than 20 years ago and (reveal the) involvement and responsibility Slobodan Milosevic's regime had," said Bakir Izetbegovic, Muslim Bosniak member of the Bosnian tripartite presidency.
A move likely to fan political tension in a region still torn by a war in the 1990s. https://t.co/drlH9zjtcq

— New York Times World (@nytimesworld) 24 February 2017
Bosnian Serbs have condemned the move, with politicians threatening to block the work of the federal parliament in Sarajevo.
Mladen Ivanic, a Serb member of Bosnian presidency, commented: "Throughout my mandate, I did my best to prove that we have to look into the future. That we should leave behind things that we can't agree upon."
The 2007 ruling concluded that genocide had occurred only at Srebrenica, where around eight-thousand Muslims were killed by Bosnian Serb forces, and not in other parts of Bosnia.
While Serbia was cleared of genocide, it was also ruled that it had failed to prevent it.