Thousands rally in Georgia to back opposition TV station
Comments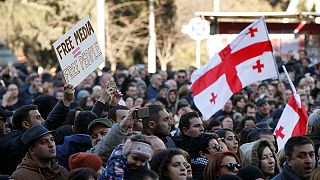 Thousands of Georgians took to the streets of the capital Tbilisi on Sunday to protest what they say is an attempt by the government to clamp down on the country's most popular TV station.
Georgia needs a critical voice

Rustavi 2 General Director
Rustavi 2, Georgia's largest independent TV station, played a key role in the peaceful Rose revolution of 2003. In a long-standing court case, a former owner said to be close to the government is seeking to regain control.
Nothing like a Sunday afternoon protest in #Tbilisi for #PressFreedomRustavi2tv</a> <a href="https://t.co/iTe0JMLmPk">pic.twitter.com/iTe0JMLmPk</a></p>— Katerina Patin (katia_patin) February 19, 2017
Georgian businessman Kibar Khalvashi says he was forced to sell his controlling stake in the network a decade ago, under the government of former president Mikheil Saakashvili, and he now wants it back.
Rustavi 2 has fought the claims, and the Supreme Court is expected to rule on the case in the coming days. Protesters fear that if it reinstates Khalvashi as owner, the station will lose its independence.
"Georgia needs a critical voice," said its general director, Nika Gvaramia. "Georgia needs freedom of press, freedom of speech and we need democracy in Georgia. We are demanding justice – that is our message today."
The broadcaster went off air on Friday evening and until Sunday's rally, which it called to demand a "fair" ruling in the ownership dispute.
Georgian media reports said more than 10,000 people jammed the streets in front of the parliament building.
#Rustavi2 has returned to broadcasting. #Protest at #Rustaveliave#freedomofpeech#Tbilisipic.twitter.com/poX4v7Lfrw

— Anna Makharadze (@Makharadzeana1) February 19, 2017