ISIL under pressure as fighting rages in Syria
Comments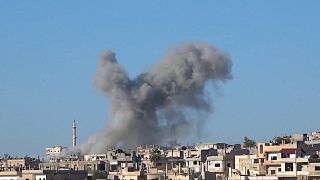 Are ISIL's days numbered in the extremist group's de facto capital of Raqqa?
The Russian Defence Ministry says its long-range bombers have fired cruise missiles at ISIL targets near the Syrian city.
The Ministry says the Tupolev-95 bombers took off from Russia and flew over Iran and Iraq to get to Syria where it said they successfully targeted militant training camps and a command point.
Bombers destroyed terrorist camps, training centers & command posts near #Raqqa - @mod_russiahttps://t.co/m4seD3uAfq#Daeshpic.twitter.com/xTMeSvk6Z8

— Sputnik (@SputnikInt) 17 février 2017
Russia had carried out a series of sustained attacks on Raqqa in late 2015, but has since focused its fire power around Aleppo and other rebel-held areas.
Separately, the US-backed Syria Democratic Forces are said to have seized a strategically important village? as they close in on Raqqa which ISIL leaders are now reportedly starting to leave.
Meanwhile, video uploaded to social media purports to show Russian air strikes pounding insurgent-held areas of Deraa in southern Syria.
In a besieged rebel-held district of Homs, it is Syrian warplanes that are said to be behind the latest deadly bombardment.
Al-Waer, the last rebel-held neighbourhood in the western city, had for months been spared much of the intense violence raging elsewhere in Syria, as the government tried to conclude an agreement with fighters.
Not any more.
And as the conflict continues, the future remains bleak and uncertain for those forced to flee for their lives.
"I don't know how to read or write. I only know how to draw the sky, the sea & the sun" Fares, 6, from #Syria#ImagineaSchool@UNICEFLebanonpic.twitter.com/7rgrtKEGUD

— UNICEF (@UNICEF) 18 février 2017
with Reuters