Venezuela defies Trump by upholding jail term for opposition leader Lopez
Comments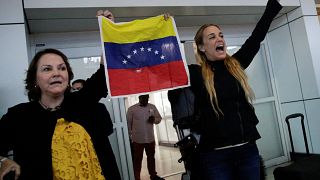 Venezuela's Supreme Court has upheld the 14-year sentence given to the country's best-known jailed opposition leader, Leopoldo Lopez.
The ruling came just one day after President Donald Trump called for Lopez to be freed.
Trump met the imprisoned opponent's wife, Lilian Tintori, at the White House on Wednesday.
He later took to Twitter, describing Lopez as a 'political prisoner' and calling for him to be released from prison 'immediately'.
Venezuela should allow Leopoldo Lopez, a political prisoner & husband of @liliantintori (just met w/ @marcorubio) out of prison immediately. pic.twitter.com/bt8Xhdo7al

— Donald J. Trump (@realDonaldTrump) 15 février 2017
Flying back home to Venezuela, Tintori was greeted by supporters at the airport in Caracas.
She remains determined to secure her husband's release.
"I feel that the priority of the… international politics of the White House is our country. It is Venezuela. They know all the details of what is going on in Venezuela," she said.
Tensions have risen sharply since Washington blacklisted Venezuela's Vice President on accusations of drug-trafficking.
Sanctioned for drugs, Venezuelan vice president slams U.S. 'aggression' https://t.co/V6KQyOKKwApic.twitter.com/HUmf4Pbfrt

— Reuters Venezuela (@ReutersVzla) 14 février 2017
The US Department of Treasury on Monday labelled Tareck El Aissami a drug "kingpin," accusing him of facilitating shipments by air and sea, and having links to drug gangs in Mexico and Colombia.
El Aissami called the move an "imperialist aggression".
Leopoldo Lopez was jailed for leading anti-government protests in 2014 following a trial that one state prosecutor involved later called a mockery of justice.
Opponents claim Venezuelan President Nicolas Maduro has become a dictator, by jailing opponents, sidelining the opposition-led congress and delaying local elections.
But the Socialist government's supporters applaud measures like its decision to take CNN's Spanish-language service off the airwaves in protest at its coverage.
Venezuela pulls Spanish language CNN from airwaves for 'distorting truth' https://t.co/So3zLWtv76pic.twitter.com/EqciJgcRSO

— Newsweek (@Newsweek) 17 février 2017
'CNN en Espanol' particularly irked Venezuelan authorities with a report alleging passports were sold illegally at Venezuela's embassy in Iraq, including to members of the Hezbollah movement.
with Reuters