Which country is leading the EU on wind power?
Comments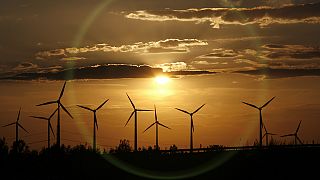 Germany is charging ahead with investments in wind energy as momentum stalls in large parts of the EU, a new report has revealed.
The country, which is phasing out its reliance on nuclear energy, added more than five gigawatts (GW) of new power in 2016, according data from Wind Europe.
France and the Netherlands also added large amounts of new capacity over the year but it is a patchy position elsewhere in the EU, according to the trade association.
"Last year over half of EU countries invested nothing in wind power," said Oliver Joy, spokesman for Wind Europe. "This is concerning because it shows that installations are increasingly concentrated in certain markets, particularly in north-west Europe and the Nordics.
"Currently, only seven of 28 member states have clear plans for renewables after 2020. This is not good enough."
Germany's commitment means it now has the capacity to produce 50 GW of wind power, a third of the EU's total.
Berlin's coal-rich neighbour Poland added around 0.7 GW of wind power last year, but critics say a new government law is helping to kill off the sector.
The EU, as part of commitments to tackle climate change, has a target of producing 20 percent of its energy consumption from renewable sources by 2020.
The bloc had reached 16 percent by 2014.
Germany produced 13.8 percent of its energy from renewables in 2014, according to latest Eurostat figures.
It has a target of 18 percent by 2020.
It comes after a new online map was launched that charts how much wind power is produced in Europe each day and how much of each country's electricity needs were served by the renewable source.
How EU wind power has gained momentum since 2000
This how #windpower has grown in the EU since 2000. #renewablesWindEurope</a> <a href="https://twitter.com/Green_Europe">Green_Europem_kaczerowski</a> <a href="https://t.co/5vAcoPXTmO">pic.twitter.com/5vAcoPXTmO</a></p>— Chris Harris (lyonanglais) February 16, 2017