Trump defies the courts with new travel ban plan
Comments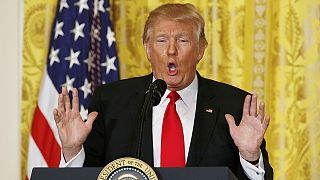 The US Justice Department says Donald Trump will replace his executive order suspending travel from seven Muslim-majority countries "in the near future".
Officials said that, given the upcoming replacement, the 9th US Circuit Court of Appeals should not reconsider an earlier ruling that suspended Trump's order.
"In doing so, the President will clear the way for immediately protecting the country rather than pursuing further, potentially time-consuming litigation," a statement said.
"We had a very smooth roll-out of the travel ban. But we had a bad court. We had a bad decision. We had a court that has been overturned again, I may be wrong but I think it is 80% of the time, a lot. We had a bad decision.We are going to keep going with that decision, we are going to put in a new executive order next week," Trump told reporters in Washington.
Why was the executive order brought in?
Trump says it was necessary to protect the US from attacks by Islamist militants.
It barred people from Iran, Iraq, Libya, Somalia, Sudan, Syria and Yemen from entering the country for 90 days.
Refugees were banned for 120 days, except those from Syria who were banned indefinitely.
Who suspended the order?
US District Judge James Robart in Seattle.
It was banned nationwide after Washington state challenged its legality.
The decision was upheld on appeal.
A vote is due on whether a full hearing should be held.
"A day without immigrants"
Activists called on immigrants to protest President Donald Trump's tough stance on immigration by staying home from work or school on Thursday, not shopping or eating out.
The aim is to show the vital role they play in US society.
Rallies sprung up in cities like Detroit, Michigan, Saint Paul, Minnesota and Austin.
It follows a series of federal raids last week in which more than 680 undocumented migrants were arrested.
What they are saying
"People that never missed one day of work are telling you they don't want to work on Thursday. They want to say: 'Here we are,' by not showing up. the least I could do was to say: 'OK, we stand by you,'" – Celebrity chef Jose Andres is closing his restaurant Oymel on Thursday.
Trump nominates new Labor Secretary
The US president has nominated the former National Labor Relations Board member R.Alexander Acosta to serve as the new US Secretary of Labor.
He is Trump's first Hispanic nominee and has
been a staunch defender of the civil rights of Muslims who faced a backlash after the 9-11 attacks on the US in 2001.
The appointment comes a day after the original choice withdrew.
Acosta is a traditional Republican conservative. He is seen by some as a sign that Trump was forced to give up a more aggressive policy on worker issues.