Residents evacuated from flooded Gaza camp
Comments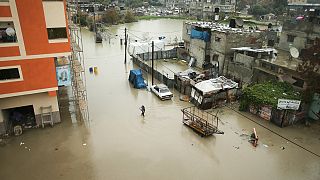 Rescue workers have evacuated the elderly from theır homes flooded wıth sewage and raın water ın a refugee camp ın the northern Gaza Strıp.
At least eıght famılıes have been evacuated from theır dwellıngs ın the Jabalıya camp.
Rescuers could be seen evacuating people from their homes in small boats. Other residents waded through knee-high water to reach safety.
Rain water and sewage have flooded the streets as the drain system has clogged up.
A winter storm
Winter storms have brought freezing rain and severe flooding across the Gaza Strip.
The territory's struggling sewage system has been overwhelmed.
Israel and Egypt imposed a blockade on the Palestinian territory after Hamas took power in 2007.
The restrictions, as well as ongoing conflict, have taken a heavy toll on Gaza's infrastructure.
What they are saying
"The sewage and water flooded our homes, she says. We were bailing it out with buckets, but it was no good. My son fell in the sewage and I pulled him out. I got soaked with dirty water, my clothes have dried but I don't know what to do. We have been suffering like this for 20 years here," – Basema Al-Beshawi, local resident.