Record numbers of refugees flee to Canada from the United States
Comments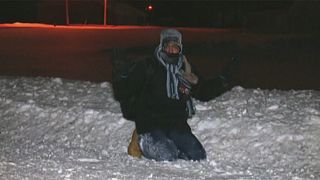 Fearing a worsening climate of xenophobia in the wake of a divisive presidential campaign, refugees in the United States are flocking to Canada in growing numbers.
Manitoba's Welcome Place refugee agency says it helped 91 claimants between November 1 and January 25, more than the agency normally sees in a year.
Most braved the freezing winter conditions to walk into Canada.
Refugees Fleeing into Canada from the US – 19 photos of crossings on part of the New York/Quebec border https://t.co/FO6EHnewnPpic.twitter.com/gYno7QaGn8

— The Atlantic Photo (@TheAtlPhoto) February 16, 2017
Temporary reprieve
A temporary restraining order by a US judge on President Donald Trump's executive order that blocked the nationwide implementation of key parts of the travel ban has provided a reprieve for refugees trying to come to the US.
However, Canadian advocacy organisations are bracing for a greater influx of asylum-seekers, driven in part by the contrast between the Liberal government's acceptance of Syrian refugees in Canada with Trump's anti-foreigner rhetoric.
Immigrants flee US for Canada – in pictures https://t.co/6ddKoAFWnw

— Guardian World (@guardianworld) February 16, 2017
Canadian Refugee Claims – Euronews Fact Check
27 – the number of men from Ghana who have walked to Manitoba from the US since the summer
7000 – the number of refugee applicants in 2016 who entered Canada from the US
63% – up from the previous year, according to the Canada Border Services Agency (

CBSA

)
2000 – "irregular" entrants in the same period
430 – crossed into Manitoba in the first nine months of 2016-17
340 – the number for the entire previous year
1,280 – irregular claimants in Quebec between April 2016 and January 2017, triple the previous year's total
652 – irregular claimants in British Columbia and Yukon in 2016, double 2015
(Figures from the Canadian Border Services Agency )
See a graphic illustrating Canadian refugee claims here
What they are saying
"We have not have something before like this. We don't know what to do," said Maggie Yeboah, president of the Ghanian Union of Manitoba, which has helped refugees get medical attention and housing.
"They will make a dash for Canada, whether they are going to go through cold weather to die or not," said Abdikheir Ahmed, a Somali immigrant and relief worker in the Manitoba capital, Winnipeg.
"The US presidential campaign, putting undocumented migrants and refugees in the spotlight, terrified them. The election and inauguration of Mr. Trump appears to be the final reason for those who came mostly last month," said Ghezae Hagos, a counselor.