Austria sues Airbus and Eurofighter for €1.1bn
Comments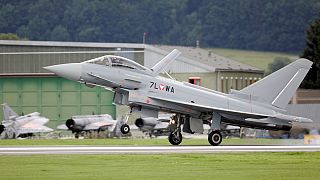 Austria has filed a lawsuit against Airbus and the Eurofighter consortium, alleging willful deception and fraud in relation to a €2bn order for Eurofighter jets in 2003.
The defense ministry carried out an investigation and concluded that Airbus and Eurofighter had misled Vienna over price, deliverability and equipment.
watch out for the Eurofighter display at #airpower16#Eurofighter#RedBullpic.twitter.com/3bhMtxh55z

— Eurofighter Typhoon (@Eurofighter_1) September 2, 2016
Austria initially ordered 18 Eurofighter jets but reduced the order to 15 in 2007. It then ordered a review of the purchase four years ago following bribery allegations.
NEWS: SPEAR Missile Fired From Eurofighter As Future Capability Development Continues #FIA16https://t.co/At3DWkFDLapic.twitter.com/EDWIVYdmnC

— Eurofighter Typhoon (@Eurofighter_1) July 12, 2016
The deal was controversial from the outset and allegations surfaced almost immediately after its announcement in 2003 that money was pocketed by politicians, civil servants and others via brokers for side deals accompanying the purchase.
The ministry said its damages estimate of up to 1.1 billion euros related to extra costs paid for the Eurofighter.