American sharp-shooter Bailey wins surprise biathlon gold
Comments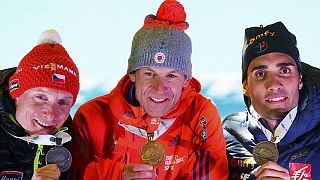 Lowell Bailey produced shock and awe at the World Championships in Austria by storming to victory in the men's 20km biathlon.
The American pulled off one of the biggest upsets in the sport's history after a thrilling spurt to the end.
Bailey's pinpoint accuracy with the rifle saw his notch up a perfect 20 for 20 in his shoot before making a dash for the line.
He finished 3.3 seconds faster than the Czech Ondrej Moravec who also shot a perfect round.
France's Martin Fourcade finished third, 21.2 seconds behind the winner and was left to rue two misses that cost him two minutes in penalties.