Troops sent to patrol Rio amid police strike threats
Comments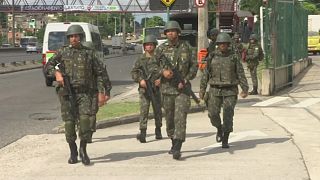 The Brazilian government has deployed the first of 9,000 soldiers onto the streets of Rio de Janeiro ahead of the city's famous carnival later this month.
They are there to help maintain law and order in the face of strike threats from local police over demands for a pay rise.
Brazil's army sends troops into streets of Rio de Janeiro https://t.co/isUQXV7Ck8pic.twitter.com/KimK5xdngl

— Press TV (@PressTV) February 14, 2017
The number of troops – almost half of those used during last year's Olympic Games – reflects concerns about a possible rise in crime in the coming weeks.
The authorities have been alarmed by what recently happened in Espirito Santo.
When police in the coastal Brazilian state went out on strike over pay rates it triggered an alarming six-fold hike in homicides and widespread looting.
During an eight day stoppage there were as many as 144 murders. Most were linked to the drug trade, although several bystanders were also killed.
Around 3,000 troops were eventually called in to patrol the streets helping the level of violence to recede.
The state has yet officially to make any concessions to the officers regarding their monthly pay, which at about 2,700 reais (820 euros) is among the lowest in Brazil.
Brazil's Espirito Santo state says reaches deal to end police strike – Reuters https://t.co/9TpBdYAP3Xpic.twitter.com/QEc94bTbq1

— anwar (@anwarmailer) February 14, 2017