Philip Pullman fans rejoice! 'The Book of Dust' is coming...
Comments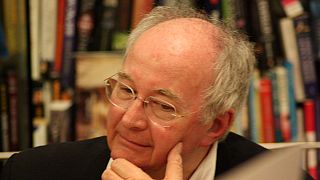 Lovers of the work of British writer Philip Pullman have something to cheer about with the news he is writing a new fantasy trilogy, 'The Book of Dust'. The first volume is due to be published in October.
It follows on from his smash hit 'His Dark Materials' trilogy which, since the publication of the first volume, 'Northern Lights' in 1995 has sold 17.5 million copies worldwide and been translated into 40 languages. 'Northern Lights' was also made into a 2007 movie, 'The Golden Compass' which, despite a cast including Daniel Craig, Eva Green, Sir Ian McKellen and Nicole Kidman, failed to set the box office alight.
Fans of this groundbreaking work, mostly aimed at older children, have been waiting ever since for Pullman to return to the themes it explored through its parallel universes, and will be delighted to learn 'The Book of Dust' does just that.
Set in Oxford and London the trilogy runs parallel to 'His Dark Materials', and volumes one and two, both already written, will feature iconic heroine Lyra Belacqua; one volume looking at her infancy, while the other sees how things have turned out for her 20 years after the conclusion of 'His Dark Materials'.
Pullman says that "at the centre of The Book of Dust is the struggle between a despotic and totalitarian organisation, which wants to stifle speculation and inquiry, and those who believe thought and speech should be free". But it is also a more detailed examination of exactly what dust, at the heart of his original trilogy, is.
A scene from a BBC adaptation of another popular Pullman series, 'The Sally Lockhart Mysteries'
The coherence of Pullman's imaginary world has led some to conclude it is synonymous with Dark Matter, which latest scientific thinking suggests is the most abundant material in the universe, but also among the most elusive and most difficult to quantify. Unlike Pullman, who nails his colours firmly to the mast.
He is an enthusiastic tweeter unafraid to tackle controversial subjects, hardly a surprise for the iconoclastic author who puts agnosticism at the centre of much of his work, and he is a fervent Remainer, anti-fascist, and supporter of progressive causes. On the day his new work was announced he wasn't tweeting about himself, and was more interested in spearing the hapless leader of UKip, embroiled in a controversy over false claims made to the public.
Every day another morsel of this man's creepiness emerges. https://t.co/20nMzb3tnY

— Philip Pullman (@PhilipPullman) February 15, 2017
Pullman has also faced criticism himself from Christians affronted by his take on God and the Church, but it is far harder to attack his taut and vivid writing style, which unusually earned an adult book award for 'His Dark Materials' final volume, 'The Amber Spyglass', which won the Whitbread Award in 2001, the first children's book to do so.
Now 70, in 2008 The Times put him in its its list of the 50 most important British novelists since WWII. He has published dozens of novels, plays and non-fiction works since his first book, 'The Haunted Storm' in 1972, when he was 25, notably 2010's controversial 'The Good Man Jesus and the Scoundrel Christ'.