Post-Brexit hate crimes in England and Wales reach record levels
Comments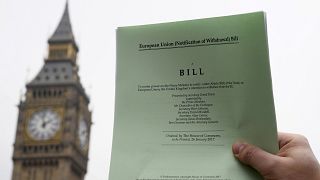 Hate crimes in England and Wales have risen to record numbers in the three months immediately following the UK's vote to leave the European Union, according to new analysis published this week.
The data, compiled by the Press Association from public records from the 44 police forces in England and Wales, show that three-quarters of police departments in the three months ending September 2016 recorded the highest quarterly increase in hate crimes since hate crimes figures were first monitored starting April 2012.
The Press Association says the Metropolitan, Greater Manchester and West Yorkshire police departments each recorded more than 1,000 hate crimes following the Brexit referendum vote.
In all more than 14,000 hate crimes were recorded, an increase of 27 percent across England and Wales according to the new data, with incidents in some areas of the country increasing by more than 50 percent.
The new analysis, the Press Association says, provides a first full glimpse of hate crime statistics in the country following the June referendum vote, and has prompted The Equality and Human Rights Commission in the UK to warn the country's police departments to prepare for more possible spikes as Brexit negotiations get underway.
"The vast majority of people who voted to leave the European Union did so because they believed it was best for Britain and not because they are intolerant of others," David Isaac, chair of the human rights commission, said to the Press Association. "It is clear, however, that a small minority of people used the Brexit vote to legitimise inexcusable racism and prejudice. We cannot allow such intolerable acts of hate to be condoned or repeated. The triggering of Article 50 is the next major milestone and we must do all we can to discourage hate attacks and to support people who feel at risk."
Police in England and Wales classify hate crimes in five categories: assault with injury; assault without injury; harassment; public fear, alarm or distress; or other criminal damage.
Hate crimes at record levels after Brexit vote – and it's only going to get worse https://t.co/GJnFtvDTUA

— Metro (@MetroUK) February 15, 2017
Following the EU referendum vote, there was a rash of anecdotal reports of hate crimes throughout the country. In Huntingdon, cards containing the words "No more Polish Vermin" were circulated outside homes and schools.
In Plymouth, a Polish family's home was deliberately torched in what police considered at the time a racially motivated attack against the family.
And in Hammersmith, London, a Polish community centre was vandalised with racist graffiti.
In October 2016, the UK Home Office published preliminary numbers indicating, much like the Press Association's fresh analysis, that hate crime numbers had indeed risen following the Brexit referendum.
According to the UK government figures, hate crime numbers were 41 percent higher in July 2016 than the year before, but that hate crime incidents had"begun tapering off to familiar levels":http://news.npcc.police.uk/releases/tackling-hate-crime-remains-a-priority by August.
That same report, however, indicated that hate crimes from 2015 to 2016 were 19 percent higher than the year before and that of the 62,518 recorded hate crimes, 79 percent were motivated by racial hatred.
The rise in hate crimes across England and Wales has drawn the ire of London's Mayor Sadiq Khan.
There has been a shocking increase in reported hate crimes since Brexit. Hate crime is completely unacceptable. We must stamp it out. pic.twitter.com/UVW6ZYRk1v

— Mayor of London (@MayorofLondon) February 15, 2017
Khan said he has a "zero-tolerance" policy toward hate crimes in London and said he has increased the "number of dedicated neighbourhood police officers across the capital" to address rising hate crime figures.
According to the Press Association's data, hate crime figures for the Metropolitan police, which covers greater London excluding the City of Westminster and the City of London, saw 3,356 hate crimes reported after the Brexit vote, an increase of 20 percent.
Speaking to the Press Association, the UK Home Office said the UK has some of the strongest legislation against hate crimes in the world.
"The Home Secretary has been crystal clear that crime motivated by hostility and prejudice towards any group in society has no place whatsoever in a Britain that works for everyone," a spokesman said.