Harrison Ford in near-miss at California airport
Comments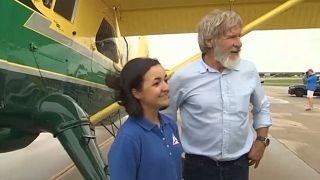 Star Wars actor Harrison Ford came close to a serious accident when his private plane landed on a taxiway, not a runway, at John Wayne Airport in California.
Ford was instructed to land on the 20-L runway of the 3-terminal airport, but mistakenly landed on a taxiway instead.
His error was serious, as the single-engine 'Husky' plane he was reportedly piloting flew over an American Airlines 737 jet, which was carrying 110 passengers and six crew.
Ford was reportedly heard asking air traffic control: "Was that airliner meant to be underneath me?"
The Federal Aviation Authority (FAA) – the body who control US airspace and airports – said the aircraft in question was given the correct landing instructions.
An FAA investigation has been launched. FAA Public Affairs Manager Ian Gregor said: "any pilot who violates FAA regulations can face penalties ranging from a warning letter to a license suspension or revocation".
This is not the first time Ford, who is an experienced pilot and noted vintage plane enthusiast, has been involved in an aircraft-related incident.
In 2015 he crashed a World War II-era plane on a Los Angeles golf course after engine failure. He was injured in the crash, but not seriously. Witnesses said Ford "saved lives" by diverting the falling aircraft towards the empty golf course and away from the surrounding houses.
In 1999 Ford crash-landed a helicopter, again in California, during a flying lesson. No one was hurt in the incident.
Less than a year later, Ford was forced to make an emergency landing in Lincoln, Nebraska. He and his passenger were unhurt, though the FAA said his plane "clipped the runway" before being "bounced across some grass and a couple of taxiways".
But Ford's accidents have not been limited to aircraft.
While filming 'Star Wars: The Force Awakens' in 2014, Ford broke his leg during a scene on the Millennium Falcon spacecraft his character Han Solo famously captains.
Euronews attempted to contact Ford's representatives they were able to comment immediately.