Fatal train collision in Luxembourg near French border
Comments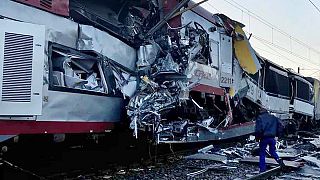 A passenger train and a freight train collided between Bettembourg and Zoufftgen in Luxembourg on Tuesday morning.
According to the latest information one person has died and six have been injured, two seriously.
One of these victims may still be trapped on the train but is able to communicate.
The incident occurred near the Bettembourg yard and the French border zone of Zoufftgen, where, in 2006, a similar collision occurred, resulting in the death of six people.
Aucune alarme ne s'est déclenchée avant le choc pour prévenir de l'accidenthttps://t.co/2xkM6XhG9I#Luxembourg#accident#trainpic.twitter.com/vd1MIaeosa

— Luxemburger Wort FR (@Wort_FR) 14 février 2017
The tweet reads no alarm was given before the head-on accident