Breast cancer survivors model underwear at New York Fashion Week
Comments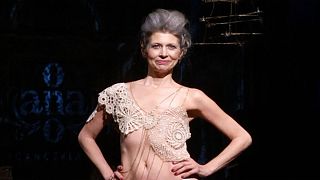 Inspirational breast cancer patients and survivors walked the runway at New York Fashion Week sporting a collection of underwear designed for women affected by the disease.
The AnaOno, a clothing line of intimates made for women who have undergone a mastectomy or reconstructive surgery, was foundered by Dana Donofree who lost both of her breasts to the disease at the age of 27.
Donofree said that she was inspired to design the underwear after she had undergone reconstructive surgery and realised classic lingerie no longer fit.
All proceeds from the show went to the charity #Cancerland