EU migrant crisis: Austria hails Balkan border cooperation
Comments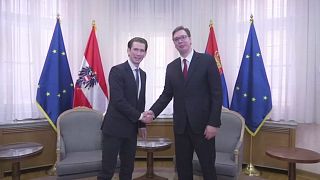 On a visit to Belgrade on Monday, Austrian Foreign Minister Sebastian Kurz praised Serbia and other countries in the region for their help last year in closing the so-called Balkan route used by migrants to get to Western Europe.
Nonetheless, nearly 7,000 migrants remain in Serbia.
Speaking at a joint press conference, Serbian Prime Minister Aleksandar Vucic said some EU countries had failed to fulfill their obligations when it comes to the migrant crisis.
He also defended Serbia's record, adding that it would do its "best to avoid" becoming "a parking lot for illegal migrants".
As harsh winter grips #Serbia, @Oxfam is providing #migrants & refugees with warm clothing and other essentials https://t.co/FvpT5aqWr5pic.twitter.com/vh1KDXGdfh

— Oxfam EU Advocacy (@OxfamEU) 4 février 2017
An EU deal with Turkey has sharply cut the number of migrants entering the bloc from there, via Greece and the Balkans. But Ankara has repeatedly threatened to halt cooperation as its relations with Brussels have worsened.
Last week, more than a dozen countries in central and southeastern Europe agreed to draw up plans for closer military and civilian cooperation to protect their borders, in case the migrant deal with Turkey collapses.