Diplomacy and trade - priorities for Trump and Trudeau in face-to-face talks
Comments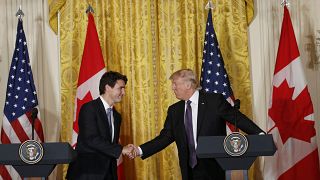 US President Donald Trump and Canadian Prime Minister Justin Trudeau have pledged to strengthen economic ties between their countries following talks at the White House.
We'll be tweaking it

US President
Although Trump has said he will renegotiate the North American Free Trade Agreement which links the economies of America, Canada and Mexico, he said changes would stop short of a major realignment with the US's northern neighbour.
"We have a very outstanding trade relationship with Canada. We'll be tweaking it. We'll be doing certain things that are going to benefit both of our countries. It's a much less severe situation than what's taking place on the southern border, on the southern border for many many years. The transaction was not fair to the United States," said Donald Trump.
Internet is having a field day with awkward photo of Trump & Trudeau https://t.co/5j1nnXtu78pic.twitter.com/0IcXe9UjXd

— Huffington Post (@HuffingtonPost) February 13, 2017
Turning to immigration, when asked about Trump's controversial policies specifically the ban on Syrian refugees, Trudeau gave a diplomatic answer.
"The last thing Canadians expect is for me to come down and lecture another country on how they choose to govern themselves."
The two men have contrasting approaches to immigration and security. Trump wants to restrict people entering the US until rigorously vetted. Trudeau has accepted nearly 40,000 refugees, and has said his country will welcome those fleeing persecution and war.