Testing Trump? North Korea reportedly fires ballistic missile
Comments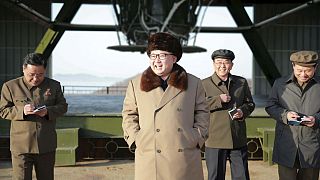 North Korea's fired a ballistic missile into the sea off its east coast, according to South Korea's military.
It is the first time the reclusive state has launched such a test since Donald Trump took over as US president.
America confirmed that it detected a missile launch and is assessing it.
The device reportedly flew around 500 kilometres.
South Korea thinks it is a show of force in response to the new US administration's hardline position against Pyongyang.
North Korean leader Kim Jong Un said in his New Year's speech that the country was close to test-launching an intercontinental ballistic missile.
That prompted a vow of an "overwhelming" response from US Defence Secretary James Mattis when he travelled to South Korea earlier this month.
North Korea has conducted two nuclear tests and a number of missile-related tests at an unprecedented rate since early last year. It has been seen by experts and officials to be making progress in its weapons capabilities.