Uttar Pradesh goes to the polls as Indians get to vote on PM Modi's policies
Comments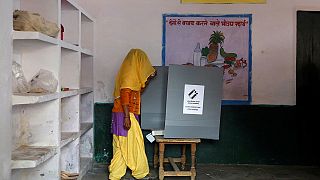 India's Prime Minister Narendra Modi faces his biggest electoral test this weekend since gaining power in 2014.
It is also the biggest election in the world this year, as the state of Uttar Pradesh is India's most populous, with some 220 million people. Modi's party, the BJP, swept the state two years ago, winning 71 of its 80 state assembly seats. The voting process is in seven stages and lasts about a month.
It's the first chance for Modi to see if abolishing 86% of the cash circulating to crack down on corruption is hurting his appeal.
"I voted because I want an end to corruption. I hope crime decreases. We want a government that can get rid of corruption," said one young man.
Scrapping so much cash has disrupted daily life and business, and has slowed the Indian economy, but the BJP insists it is needed to rid the economy of the proceeds of crime and corruption, and Modi says it will help India's poorest, as untaxed income will now be harder to get away with. For three months people have been complaining about the move, which is a huge political gamble on Modi's part.