The House of the Chaste Lovers - Open for Valentine's Day
Comments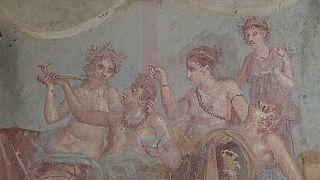 It could be the perfect place to spend Valentine's Day.
The House of the Chaste Lovers, named after a fresco on the site, opens in the ancient town of Pompeii in southern Italy this weekend – but only until and including February 14.
Then it will close to allow restoration work to continue as part of a multi-million euro preservation project for Pompeii.
Last year, the Roman town, famously buried under volcanic ash in the eruption of Mount Vesuvius, welcomed a record 3.2 million visitors.
Great Pompeii Project 'sets example' - 3 million visitors reached, says EU commissioner https://t.co/usWNXmiCZF

— Ansa English News (@ansa_english) 9 février 2017