Uefa's Executive Committee approve governance reforms
Comments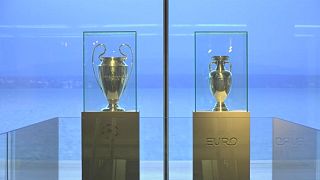 The way European football's administrative body Uefa is governed could be about to change after a set of reforms were approved by the organisation's executive committee this week.
Uefa boss Aleksander Ceferin said among the approved reforms he put forward were the "introduction of term limits for the President and Executive committee members as well as a more transparent bidding process for all Uefa competitions.''
He said: "The proposal was to establish terms limits. As you see, current situation is we don't have any term limit, we only have an age limit of 70. The new proposal is that UEFA President and UEFA Executive Committee members may now only serve a maximum of three terms of four years.
"For all the UEFA competitions, there will be a transparent bidding process. So, no more political favours, no more political tools for us, for any single organisation for every competition, you would have to pass the bidding procedure."
Any reforms approved by the Executive Committee during Thursday's meeting at the body's headquarters in Nyon Switzerland, will now need to be ratified at the UEFA congress which takes place in Helsinki, Finland on 5 April.