Top US general in Afghanistan demands more troops for Afghanistan
Comments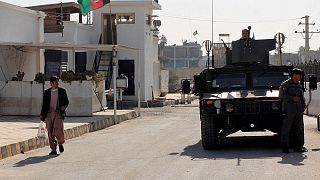 The top US commander in Afghanistan has called for several thousand more troops in order to break the stalemate in the protracted conflict with the Taliban.
Afghan forces are under pressure from battle hardened Taliban fighters and suffering casualties as they defend Afghanistan's provincial capitals.
#news#RT U.S. General Seeks 'a Few Thousand' More Troops in Afghanistan: Gen. John W. Nicholson Jr., the commander of the… #photographypic.twitter.com/6IuGzlZMpk

— SagittarioCase (@SagittarioCase) February 9, 2017
Speaking at the Senate Armed Services Committee Hearing Gen. John W. Nicholson said: "These contributions could come from our allies as well as the United States. We have identified the requirement and the desire to advise below the core level so these additional forces would enable us to thicken our advisory effort across the Afghan ministries and do more advising below the core level."
The general criticised the actions of a number of countries and said Russia was creating a "false narrative" around Afghanistan:"I do remain concerned about the influence of certain external actors particularly Pakistan, Russia and Iran who continue to legitimise and support the Taliban and undermine the Afghan government's efforts to create a stable Afghanistan."
Afghanistan lost 15% of its territory to the Taliban last year — via FreeBeacon</a> <a href="https://t.co/j91EBQeFiu">https://t.co/j91EBQeFiu</a> <a href="https://t.co/FhtJTnMMmS">pic.twitter.com/FhtJTnMMmS</a></p>— Business Insider (businessinsider) February 2, 2017
Nicholson wants more troops to work with the lower levels in the chain of command, it looks likely his call will fall on deaf ears as NATO lacks the appetite for a troop surge in Afghanistan.