Trump's cabinet nominations slow to get Senate approval
Comments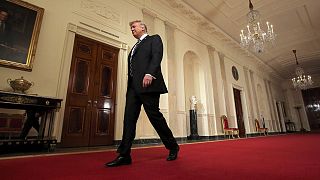 It was only Donald Trump's fifth cabinet appointment – the billionaire Betsy DeVos to Secretary of Education – and it's likely her family donations over the years worth two hundred million dollars to the Republican party played a role.
The Senate had never been so divided in approving a cabinet nomination, in fact it came down to 50 votes for and 50 votes against her appointment. The Vice President then added his vote to call it in her favour.
DeVos is known for her positions in favour of private and religious schools as well as her lack of experience in public education policy.
During her hearing in the Senate, she said she was in favour of weapons in some schools to protect against grizzly bears.
Before her the new US Secretary of State Rex Tillerson was approved by a majority of 56 votes to 43 in the Senate, one of the narrowest for a Secretary of State in history.
He is the former CEO of Exxon oil company and is known for his business links with Russia.
Donald Trump is finding it more difficult than any other president to get his nominations to the cabinet approved.
Almost three weeks after Trump's inauguration and as of Wednesday afternoon there are only five confirmed cabinet positions.
It is a disgrace that my full Cabinet is still not in place, the longest such delay in the history of our country. Obstruction by Democrats!

— Donald J. Trump (@realDonaldTrump) February 8, 2017
Both Obama and Bush in contrast managed to have their cabinets confirmed in a week.
Jeff Sessions is likely to be confirmed as the new Attorney General on Wednesday evening, making him the sixth.
His career has been dogged by allegations of racism and dubious comments he has made about the the Ku Klux Klan.
For now Donald Trump is filling much of the political vacuum in Washington, an unheard of scenario almost three weeks into a president's term of office.
But there is a right-hand man who is very much in evidence, Steven Bannon, the ultra-conservative and ultra nationalist who is special advisor to the president.
He has not been vetted by a Senate committee yet right now many analysts view regard him as extremely influential and powerful.