US Education Secretary Betsy DeVos 'survives' tie-break Senate vote
Comments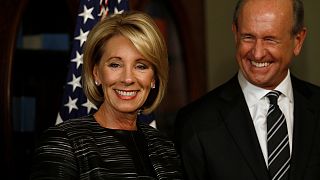 It's been described as more of a survival than a confirmation. US Vice President Mike Pence was forced to give the deciding vote on Betsy DeVos' nomination as Education Secretary.
The tie-breaking vote was an, until now unprecedented occurrence in a Cabinet confirmation. Critics claim the billionaire businesswoman is unprepared for the post after a shaky Senate confirmation hearing.
All 46 Democrats, two independents and two Republicans voted against her.
Previously, Cabinet nominees with poor support in the Senate have asked the president to withdraw their nomination. Devos did not do this.
Chuck Schumer, the Senate Democratic leader, was scornful of the confirmation.
This cabinet nom is so unqualified, so divisive, that @MikePenceVP had to drive down Pennsylvania Ave to cast the deciding vote.

— Chuck Schumer (@SenSchumer) February 7, 2017
In contrast, US President Donald Trump said DeVos's confirmation was a "vote for every child having a chance at a world-class education."
Today's vote to confirm Education Secretary @BetsyDeVos was a vote for every child having a chance at a world-class education. https://t.co/zdF3OzIohN

— Vice President Pence (@VP) February 7, 2017
Others disagreed.
Teachers unions have roundly opposed DeVos, who as an advocate of independent or charter schools, has been criticised for an apparent disdain for public education.
And reportedly, even middle school children have criticised her grammar…
Some middle school kids corrected pending 'Education' Secretary Betsy DeVos' tweet, hilarious. pic.twitter.com/8T6ctXJheC via @gnuman1979

— Kathryn Brusco (@KathrynBruscoBk) January 22, 2017
Shortly after the tweet appeared on DeVos's account, an apology was issued.
Apologies for the earlier error, everyone. Proof our staff members are only human! :)

— Betsy DeVos (@BetsyDeVos) January 20, 2017