Honduras: 'over 20 dead' in bus and lorry crash
Comments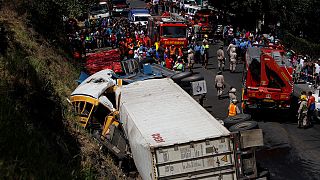 A collision between a bus and a lorry in Honduras on Sunday (February 5) has left at least 23 people dead and 39 injured, according to the EFE news agency.
The crash took place about 10 kilometres from the nation's capital, Tegucigalpa, on a road heading to the south of the central American country.
Unconfirmed reports say that the driver of the cargo lorry lost control and struck the yellow bus before fleeing. The National Transportation Director, Miguel Osorio told reporters that investigators are assessing whether or not the lorry had been speeding.
The injured were taken to University Teaching Hospital in Tegucigalpa. The hospital's spokesperson said that two of them were in a serious condition with severe head injuries.
Tragic images of the accident's aftermath, and the tireless rescue operation mounted by Honduras' security services and the red cross are available below.
Viewer discretion is advised.
All images courtesy of Reuters