Trump administration appeals travel ban suspension
Comments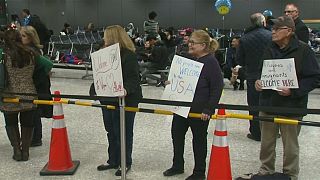 As the Trump administration appeals the suspension of its controversial travel ban, those affected by the restrictions are using their window of opportunity to get into the United States.
Saturday's legal challenge by the US Justice Department follows a judge's temporary lifting of the ban on citizens of seven mainly Muslim countries and refugees.
Justice Dept. files notice of appeal to restore Trump immigration ban https://t.co/ISWH6F6ish

— Washington Post (@washingtonpost) 5 février 2017
At Dulles Airport near Washington on Saturday, medic Maher Salam waited for his mother, a Syrian citizen with a US green card.
"As a Syrian, I am a doctor, I am a US citizen," he said.
"I believe that we are a productive part of the American society. And this kind of indiscriminate order will affect a lot of people. I don't believe it is going to make us, as an American, any safer."
But Trump disagrees and he has been defending his immigration crackdown on Twitter, warning of 'death and destruction' if 'certain people' are allowed in.
Interesting that certain Middle-Eastern countries agree with the ban. They know if certain people are allowed in it's death & destruction!

— Donald J. Trump (@realDonaldTrump) 4 février 2017
Despite mass protests against the travel ban, the US leader told reporters on Saturday night at a gala in Florida that he was confident of victory in the appeal.
"We'll win. For the safety of our country, we'll win." he said.
Trump on immigration appeal: "We'll win. For the safety of the country we'll win." pic.twitter.com/ffOPCgtPBv

— Jennifer Epstein (@jeneps) 5 février 2017
Demonstrators see things differently, determined to defend a different vision of America.
Americans protest Trump's travel ban for a second weekend https://t.co/VuvROh0PJtpic.twitter.com/j8maoMTYLH

— Huffington Post (@HuffingtonPost) 4 février 2017
with Reuters