Berkeley student protests force Breitbart speaker to pull out
Comments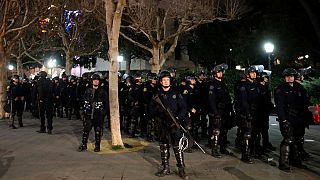 Student protests at the University of California at Berkeley degenerated into violence on Wednesday, forcing a right-wing commentator to cancel his scheduled appearance at the liberal-leaning institution.
The anger was aimed at Milo Yiannopoulos, editor of the far-right Breitbart News website, previously run by Donald Trump's chief strategist Steve Bannon.
Windows were smashed, fires started and bricks thrown. Some reports spoke of fireworks being tossed at police.
A Trump supporter, Yiannopoulos has been slammed for comments dubbed misogynist and racist. Last year his Twitter account was suspended over claims he took part in the online harassment of an African-American actress.
The event was cancelled just two hours before Yiannopoulos was due to give a speech at the student union.
Speech by Milo Yiannopoulos Is Canceled Amid Protests at Berkeley https://t.co/0TFjw9axRS

— The New York Times (@nytimes) 2 février 2017
"Obviously it is important to hear the other side's views," said one student taking part in the protest.
But he argued that "Milo is not the right person to bring on campus to advocate for their views".
Some 150 "masked agitators" were behind the violence during the otherwise largely peaceful protest of about 1,500 people, the university said in a statement, noting that the school "is proud of its history and legacy as home of the Free Speech Movement" in the 1960s.
Yiannopoulos criticised "the Left", saying in a statement that it was "absolutely terrified of free speech and will do literally anything to shut it down".
He also said on Fox News that he had to be evacuated from the site by police and security guards.
"Obviously it's a liberal campus so they hate any libertarians or conservatives who dare to express an opinion on their campuses," he said.
"They particularly don't like me."
with Reuters