Syria: Anti-ISIL forces close in on Raqqa
Comments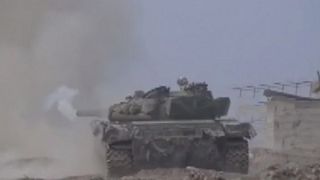 The US-backed campaign against ISIL is closing in on Raqqa, the Syrian capital of the group's self-proclaimed caliphate.
The offensive is being waged by the Syrian Democratic Forces (SDF) who say that under President Donald Trump they have seen signs of increased American support.
They aim to fully encircle Raqqa, severing it from ISIL strongholds in Deir al-Zor where tens of thousands of civilians are trapped by the jihadists.
Air drops of food by the UN's World Food Programme, halted in mid January, have resumed, adding to those carried out since last spring.
"We have done a total now of 179," WFP Spokeswoman Bettina Luescher told a news conference in Geneva.
"We restarted them on Sunday and we are glad that we can continue to bring life-saving food and other aid supplies to this besieged town."
#breaking. @WFP and partners @SYRedCrescent resume air drops in #DeirEzZor today with a successful drop of 18MT of food items pic.twitter.com/0HUEQ7SYO6

— Jakob Kern (@JakobKern1961) 29 janvier 2017
There is also a desperate need in eastern Aleppo where civilians have been returning to what remains of their homes.
The WFP has stepped up its help there too, providing hot meals and other rations to families trying to rebuild their lives.
Talking to children in East #Aleppo who are waiting for their @WFP bread on a cold sunny winter day pic.twitter.com/d36NvfVbls

— Jakob Kern (@JakobKern1961) 28 janvier 2017