Trump sets a new presidential low for disapproval rating
Comments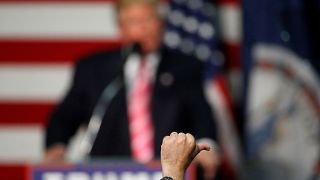 A majority of American adults disapprove of Donald Trump's job performance after just eight days of his presidency, according to opinion pollster Gallup.
In the five days immediately after his inauguration, some 45% of people disapproved of Trump's presidency with around the same number of people approving. By January 27, however, disapproving Americans had become a majority.
It is the fastest any president has reached the 50% disapproval point. The previous holder of the ignominous record was Bill Clinton, who reached the tipping point after 152 days of his presidency.
Gallup claims Trump is also the first President of the USA to arrive in the job with an approval rating of less than 50%.
Between January 20 and 22, when Gallup carried out the telephone poll of 1,525 people, 45% of responders said they approved of the Trump White House. Just 10% of responders were undecided.
By means of comparison with previous presidents, Ronald Reagan and George HW Bush both began their first terms with low approval ratings (51% in 1981 and 1989 respectively) but their initial disapproval rating was far lower than Trump's 45% (13% for Reagan and 6% for Bush Snr.)
In Trump's defence, Gallup opinion polls before his election last November suggested Hillary Clinton would win the White House, with an approval score of 40% compared to Trump's 35%. While Clinton received almost three million more votes than Trump, she lost the all-important electoral college result by 304 votes to 227.