Israel: rally ahead of vote on legalising West Bank settlements
Comments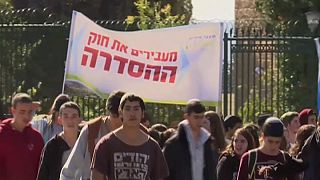 A march has headed towards the Israeli parliament. It is a show of support for a bill which would retroactively legalise thousands of settlement homes on privately-owned Palestinian land.
Israel is widely expected to approve the bill in a vote by Tuesday. It is a measure the attorney general says is unconstitutional.
While the previous US government said the last vote on the bill was 'troubling', Israel's prime minister may be banking on a softer reaction from Trump's administration for the next passage through parliament.
"It is very possible that Netanyahu is trying to take advantage of this time and of the change of administration in the United States for his own advantage," admits Anat Ben Nun, from Israeli human rights organisation, Peace Now. However, she adds, "more than anything, I think that Netanyahu is trying to change the public debate in Israel to divert the conversation away from his investigations, from the corruption allegations that he is dealing with."
The law is backed by the pro-settlement Jewish Home party, who have threatened to quit Netanyahu's government if it doesn't pass. The Israeli premier is also under criminal investigation over allegations of abuse of office.
If voted, the law would allow settlers to hold onto homes, while providing Palestinians with financial compensation.
Supporters say it would mean settlers could live without fear their homes could be demolished, while Palestinians see it as a land grab.
The international community deems settlements on occupied territory as illegal. Last December, the UN passed a resolution calling for an end to Israeli settlements.