Hirscher claims 20th World Cup victory with Garmisch-Partenkirchen giant slalom triumph
Comments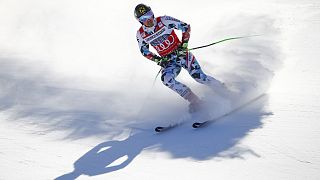 After the two downhills of Garmisch-Partenkirchen won by Travis Ganong and Hannes Reichelt, a giant slalom was the order of the day on the Kandahar course.
The superb Marcel Hirscher came out on top as he produced a masterful second run to hold the field at bay for his 20th World Cup giant slalom victory.
Hirscher lost out to Alexis Pinturault in the last outing in Adelboden by a mere four one hundredths of a second.
And he was again trailing his French rival after the first run.
But the five-time defending overall champion gave it everything in the second and crossed over to celebrate back-to-back slalom victories at the German resort.
Pinturault lead by a slender nine one hundredths of a second after the first run.
But, he made a costly error during the second that left him down in fourth behind Matts Olsson of Sweden in second and Germany's Stefan Luitz who claimed third.
Hirscher now leads the discipline standings with a 94-point cushion over Pinturault with two giant slaloms left, both of which take place after next month's world championship at St Mortiz.
Analyze this
Hirscher is also the overall world cup leader ahead of Henrik Kristoffersen and Pinturault.
With the World Championship just around the corner we were keen to know how they placed the event in their objectives for a season. If they had to choose would they prefer to win the season-long World Cup crystal globe or a World championship gold medal? Here's what they said.
Hirscher: "The Globe. I mean it is my keynote, the globes, and for sure (to be) world champion is always great but for me personally (there) is more worth if you are constantly good for all the season from end of October till end of March."
Kristoffersen: "I think I will choose the globe, because if you are going to win any of the globes you have to win so many races and I would rather win five races in slalom and no medal, than not winning any races in a world cup and one gold medal at the world championships."
Pinturault: "It's hard to say. It depends on the crystal globe. If it's the globe for winning the overall standings then I would say yes to the Globe. But if it's for a small globe for any of the disciplines then I would prefer a World Championship gold medal."
At the summit
Tina Maze has retired but another Slovenian skier has taken up the mantel.
Ilka Stuhec registered her fifth victory this winter when she triumphed in a super-G in Cortina d'Ampezzo, Italy.
Stuhec had never finished better than fourth in this discipline before Sunday.
And in near perfect conditions the 26-year-old chose to go down first with the number one bib.
She produced a smooth and powerful display down the stunning Olympia delle Tofane course to set a blistering early pace.
Stuhec, who won the opening three downhills this campaign, then nervously waited at the bottom as the rest of the field tried to beat her time.
When none of them could the Slovenian was left celebrating the first World Cup super-G win of her career.
Sofia Goggia claimed her second runners-up finish in as many days.
The Italian skier thrilled the home crowd when she crossed over with the second fastest time, 0.31 seconds off Stuhec's pace.
Although Goggia is still seeking her first career win, she has now matched the Italian women's record of nine podium placings in a single season.
Austria's two-time overall world cup champion Anna Veith, formerly known as Anna Fenninger, took third place, while defending world cup champion Lara Gut lost control midway through and failed to finish.
American technical specialist Mikaela Shiffrin produced her best finish in a speed event with fourth and with that extended her overall lead to 80 points ahead of Switzerland's Gut.
Take off
24 hours after the team competition won by Poland, there was an individual competition on Sunday on the big hill of Willingen.
The day's honours went to Andreas Wellinger, who ended the weekend in Willingen with success in front of his home crowd.
The 21-year-old Bavarian was in fine fettle on his home hill having won qualification on Friday and was the stand out athlete in Saturday's team event.
With 242.3 points he celebrated his second individual win on the World Cup circuit, just over two years after his first.
Austrian jumpers rounded out the podium.
Stefan Kraft took second place with 242 points for his seventh podium finish of the season.
Fellow Austrian Manuel Fettner, who is still seeking his first World Cup victory, produced two solid jumps to round out the podium in third with 241.
Four Hills champion Kamil Stoch of Poland came in fifth but retained his lead at the summit of the overall standings with 978 points, Daniel Andre Tande of Norway is second on 853 points while and Slovenia's Domen Prevc is third(786 points).