Watch: Hotel crashes into river as heavy rains hit Peru
Comments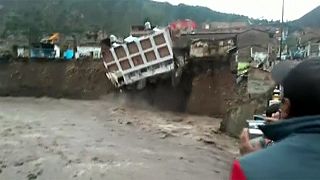 A colonial-era hotel has collapsed into a river in Peru amid heavy rain in the South American country.
Dramatic footage captured the moment the building disintegrated in Lircay on Thursday (January 26), south-east of the capital Lima.
It is thought the swollen rivers had helped to erode the hotel's foundations.
Civil defence authorities said it started raining on Wednesday afternoon and did not stop for 10 straight hours.
No injuries were reported because all of the guests had been evacuated before it collapsed, according to local media reports.