Eurozone closes ranks after US attacks on the euro
Comments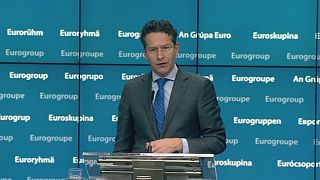 Eurozone finance ministers closed ranks to defend the euro after the man tipped to be the US ambassador to the EU, Ted Malloch, said the currency "could collapse" within 18 months.
The euro is not going to collapse, neither in 18 months, not in 10 years, nor in 20 years

EU Economic and Financial Affairs Commissioner
#Brexit professor Ted Malloch 'predicts' end of the #Euro within 18 months.https://t.co/ybHVlleZIMpic.twitter.com/yWNLO23I9d

— Clinton Alexander (@cogsciclinton) January 26, 2017
Jeroen Dijsselbloem, the president of the Eurogroup of finance ministers, dismissed the analysis and remained committed to European ideals: "We are not protectionists. We Europeans will continue to work on free trade. We will uphold the European standards that we have , labour protection, environmental protection etc. Yes, free trade, there are lots of opportunities out there."
#ESM MD Klaus #Regling with J_Dijsselbloem</a> and <a href="https://twitter.com/pierremoscovici">pierremoscovici at the #Eurogroup press conference in Brussels pic.twitter.com/Bj7ktbBMjw

—

ESM

(@ESM_Press) January 26, 2017
The Eurogroup wished Malloch well, but added the negative comments will bind the group closer as it comes to terms with the reality of Brexit and Trump in the White House.
The EU's Commissioner for Economic and Financial Affairs Pierre Moscovici said the euro currency was not going to collapse, neither now nor in 20 years.
"I don't think this is a very informed judgement, the euro is not going to collapse, neither in 18 months, not in 10 years, nor in 20 years, We have a single currency, which is a major factor of unity among us, it is no use trying to divide the Europeans, But we need to strengthen the eurozone, we need to complete the eurozone, we need to deepen the eurozone. And that is something which is going to be addressed by the Commission, in a white paper that will be delivered in order to prepare the 60 years anniversary of the Treaty of Rome. We will disappoint those who see us already dead," he said.