Index dubs USA a 'flawed democracy'
Comments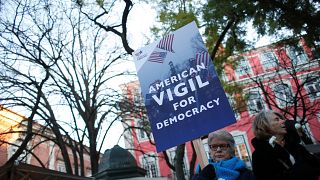 Each year the Economist Intelligence Unit (EIU) publishes an index on the state of global democracy. For the first time, the United States, a country which has often tasked itself with "promoting democracy" all over the world, has been downgraded from a "full democracy" to a "flawed" one.
U.S. slips into "flawed democracy" territory on TheEconomist</a>'s Democracy Index <a href="https://t.co/pHrymC0yf9">https://t.co/pHrymC0yf9</a> <a href="https://t.co/8jcRzQnU8A">pic.twitter.com/8jcRzQnU8A</a></p>— Aaron Blake (AaronBlake) January 26, 2017
The rating is given out of ten with eight and above constituting the enviable status of "full democracy"; six to eight a "flawed democracy"; four to six a "hybrid regime" and zero to four an "authoritarian regime".
The dip in points for the US, though marginal, slipping from 8.05 to 7.98, was enough for the it to be relegated to the rank of second best joining France, Greece and Japan.
The report was clear that the perceived drop in democracy was not as a result of Donald Trump's election but rather the driving factors that led to it, especially "the continued erosion of trust in government and elected officials". The EIU report's Editor Joan Hoey recycled a phrase used by Hilary Clinton to describe Trump supporters, labelling 2016 "the revenge of the deplorables".
Ms Hoey added: "The backlash was the culmination of a longstanding trend of deterioration in the quality of democracy in the US and Europe, which is manifested in declining trust, falling popular participation and the erosion of civil liberties."
To measure such concepts as "trust", the index analyses data from global surveys. In total there are 60 indicators assessed across five categories. These broadly include "electoral process and pluralism", "functioning of government", "political participation", and "democratic political culture and civil liberties".
#Norway has topped the Democracy Index global ranking in 2016. More in our special report: https://t.co/o337tKYWUa#DemoIndexpic.twitter.com/YkekLhOZMg

— The

EIU

(@TheEIU) January 25, 2017
Scandinavian countries topped the list as usual with Norway scoring a thoroughly impressive 9.93, Iceland hot on its heels with 9.5 and Sweden clinching third place with 9.39.
Despite Brexit, the UK is still classed as a "full democracy" partly thanks to the incredible turnout (72.2%) at the referendum. The UK is said to differ from the US markedly in terms of "civil liberties and political culture".
Across Europe, a pattern of declining popular confidence in politicians helped bring down the scores of more than 70 nations raising concerns for how the index might look by next year.