Around the world in 40 days - Joyon sets new sailing record
Comments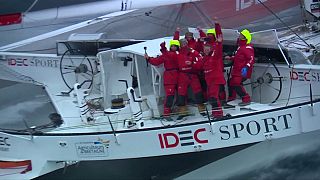 Frenchman Francis Joyon and his five-man crew won the Jules Verne trophy for setting the fastest time to sail around the world on Thursday.
Aboard the trimaran IDEC Sport Joyon set a new mark of 40 days 23 hours and 30 minutes.
He beat the previous non-stop round-the-world record set by fellow countryman Loic Peyron in 2012, by four days.
The 60-year-old skipper completed his trip in the early hours of Thursday morning near Ouessant, in Brittany.
Joyon's exploit is the third record by French sailors in the space of a month.
Thomas Coville clocked a record 49 days for his impressive solo attempt while Armel Le Cléac'h won the gruelling Vendée Globe race, crossing the line in a new mark of 74 days.