Firefighters in Dubai to use jetpacks
Comments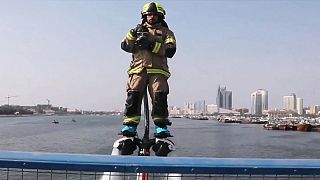 Dubai's civil defence force showcased their futuristic new fire-fighting tools on January 20, which included a water-powered jetpack.
The "Dolphin" system consists of a jet ski to provide easy access to shoreline fires, a jetpack to allow firefighters to hover up to 330m in the air and a fire hose.
As a whole, the system is aimed at providing faster response times during rush hours in the city.
Martin Jetpack has provided the force with 20 jetpacks in an alleged multi-million dollar deal.