Tehran comes to terms with Plasco tower collapse
Comments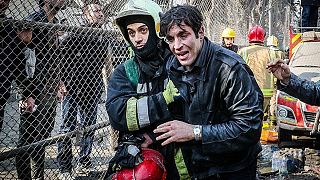 A huge search and rescue operation is ongoing in Tehran, following the collapse of the Plasco tower.
Some of the firefighters working through the rubble are at the same time coming to terms with the loss of their colleagues and friends.
London's firefighters have sent their condolences.
Our thoughts are with the friends and families of the firefighters who have died following the fire and building collapse in Tehran, Iran

— London Fire Brigade (@LondonFire) January 19, 2017
The cause of the blaze firefighters were responding to at the time of the collapse has not been confirmed.
Interior Minister Abdolreza Rahmani Fazli spoke to journalists from the site.
"Unfortunately this happened very fast and the fire was widespread in the building. Now, the emergency services are cleaning up the debris and rescue operations are ongoing. The most important thing is to leave the scene. The crowd must be evacuated because the danger is not over."
Euronews' correspondent Javad Montazeri attended an emergency meeting between Iran's Vice President, Health Minister and the Mayor of Tehran, which was held shortly after the blazing building crumbled to the ground.
"Tehran's mayor presented his report. He said there was a huge amount of debris because of the height of the building. It's been reduced to about three floors. Rescue operations are facing a lot of problems and are going slowly."