Sailing: Frenchman Le Cleac'h holds off Brit Thomson to win Vendee Globe
Comments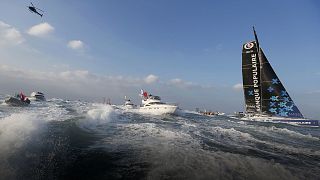 French skipper Armel Le Cleac'h held off Britain's Alex Thomson to win the gruelling solo round-the-world Vendee Globe sailing race.
Le Cleac'h aboard his 60-foot yacht Banque Populaire, won in a record time of 74 days, three hours, 35 minutes and 46 seconds.
The 39-year-old becomes the eighth Frenchman to win the race and was greeted by a flotilla of well wishers in the freezing temperatures.
After finishing second in the previous two editions Le Cleac'h was understandably emotional on his arrival at the finish line in Les Sables-d'Olonne on France's Atlantic coast.
"I never gave up, I wanted it so bad. It was really hard going up the Atlantic (to the finish) as I had terrible weather conditions.
"I started to contemplate victory only last night," said a tearful Le Cleac'h, who lost the race by just over three hours in 2013.
Welsh skipper Thomson, on board Hugo Boss, had got to within 33 nautical miles of Le Cleac'h with only 300 miles to go but saw that deficit grow over night as Le Cleac'h surged towards home soil.
The 42-year old Gosport-based sailor was attempting to become the first Brit to win the race but now has to settle for the runners up spot.
Of the 29 sailors at the start of the non-stop race at Sable d'Olonne on Nov. 6, 11 have already called it quits.
The last sailor, Sebastien Destremau, aboard TechnoFirst-FaceOcean, still has to go through the feared Cape Horn and lies almost 10,000 miles behind Le Cleac'h.