Political newcomer Rumen Radev sworn in as Bulgaria's president
Comments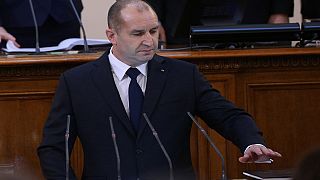 Political newcomer Rumen Radev has been sworn in as president of Bulgaria after a decisive victory in November's election.
The former air force commander has pledged to maintain the country's EU and NATO membership, while at the same time improving ties with Russia.
The independent candidate, with the backing of the Socialists, says he will dissolve parliament next week, following the resignation of prime minister Boiko Borisov and the collapse of the centre-right government.
But analysts say a new parliamentary election is – the third in three years – is, once more, unlikely to produce a strong majority government. They say Bulgaria needs this to implement judicial and economic reforms.
The vote is likely to take place on March 26.