'The Champion': a new exhibition opens doors to sports fans in Budapest
Comments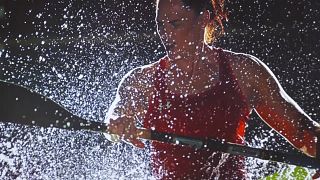 A new spectacular and unique exhibition has opened at Millenaris Park in Budapest. "The Champion", which is already proving a big hit in the Hungarian capital, introduces cutting-edge technologies intended to bring sports fans even closer to their favourite disciplines. Former Hungary water polo coach Tibor Benedek believes this interactive experience is great for all ages.
"I'm a coach now and I'm currently working at a club which is great for kids", said the former Olympic champion. "Approximately 300 children have joined us and I think this is what I like seeing the most. I want them to come here and get acquainted with different sports while learning more about themselves and their potential. I believe it's important to get them involved as much as possible."
If you have ever dreamed of competing against Jamaican sprint legend Usain Bolt or playing alongside your favourite football players, here is your chance. Each performance will be monitored, enabling visitors to discover which sport best suits them. The exhibition runs until April 7 in Budapest.
"Well I was curious to find out what sport suited me best," said our euronews correspondent Andrea Hajagos. "Now that have I been given this opportunity to show you my skills, I might as well try my luck."