Scotland hits back, threatens UK with independence after May's Brexit speech
Comments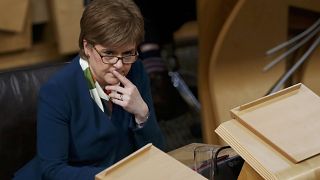 Scotland's First Minister Nicola Sturgeon has criticised UK Prime Minister Theresa May for not considering Scotland's opposition to Brexit and reinforced Scotland's right to self-determination.
May said on Tuesday (January 17) the UK will not seek any partial membership of the European Union when it leaves the bloc. She used her much-anticipated speech to clarify the UK's stance on the pending divorce and it appears to confirm Sturgeon's worst-case scenario of a so-called "hard Brexit".
After months of political speculation and economic uncertainty, May's speech saw the value of the pound skyrocket Tuesday. But within hours of May's address Sturgeon had hit back, reminding London that Scotland had not voted to leave the EU, and that under London's stewardship, Brexit would be "economically catastrophic" for the UK.
"The UK government cannot be allowed to take us out of the EU and the single market, regardless of the impact on our economy, jobs, living standards and our reputation as an open, tolerant country, without Scotland having the ability to choose between that and a different future," Sturgeon said. "With [May's] comments today, the prime minister has only succeeded in making that choice more likely."
First Minister of Scotland NicolaSturgeon</a>'s response to the Prime Minister's speech on <a href="https://twitter.com/hashtag/Brexit?src=hash">#Brexit</a>. <a href="https://t.co/VnL7KGKON3">pic.twitter.com/VnL7KGKON3</a></p>— Ross Colquhoun (rosscolquhoun) January 17, 2017
Sturgeon leads Scotland's pro-independence devolved government and has made repeated threats to renew Scotland's push for independence if Brexit negotiations mean a complete retreat from the EU's 500-million-person-strong single market.
In last June's referendum Scotland voted overwhelmingly, 62 percent to 38 percent, to remain in the EU. In 2014 Scots voted more narrowly, 55 percent to 44 percent, against independence from the UK.
But Sturgeon has said voters' support to remain in the EU reopens the possibility of a second referendum on independence.
Sturgeon submitted proposals to May's government before Christmas outlining ways in which Scotland could retain access to the EU's single market. But if they are either overlooked or refused, she said, Scotland must be given the option to determine its own future.
"While discussions on those proposals continue, and while the Prime Minister [Tuesday] reiterated her pledge to give our plan proper consideration, we have not yet seen evidence that Scotland's voice is being listened to or our interests taken into account," Sturgeon said.
Ruth Davidson, the leader of Theresa May's Conservative Party in Scotland, said the Scottish First Minister should abandon her threat of independence.
"[The] Scottish National Party should have the good grace to accept that many of its own demands – including the protection of workers' rights, and the protection of rights for the EU citizens in Britain and cross-border cooperation on tackling crime – have been recognised by the UK government," Davidson said.
The Scottish government is expected to meet with its Westminster counterparts Thursday in London as part of ongoing negotiations between the UK and Scotland on Brexit.