Impact of Brexit on EU 'depends entirely on member states', think tank finds
Comments
By
Euronews
with
Jacques Delors Institut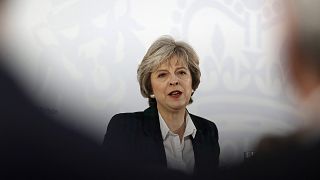 Brexit will have "quite a significant, but not devastating, impact on the EU budget," a report by a Berlin-based think tank has found.
The paper by the Jacques Delors Institut, explores what would happen if, as British Prime Minister Theresa May has indicated, the UK withdraws its 10-billion-euro yearly contribution to the bloc.
Solutions?
It suggests there are two possible solutions to what it calls "the Brexit gap."
Either, EU countries are asked to contribute a higher sum annually, to compensate.
Or, additional income could be generated through a 'grand bargain' scheme incorporating a joint overhaul of revenue and expenditure.
Impact
Budget increases could involve Germany paying 3.5 billion euros more on an annual basis, and France 1.5 billion more.
If the 10 billion euros were simply cut from the EU budget, it would be equivalent to:
- The entire EU foreign policy budget and its immigration, consumer protection and culture budgets combined.
- Or, its entire Horizon 2020 research funding programme, plus the asylum, migration and integration fund.
- Or a 20 percent cut in cohesion funds used to support development in poorer regions.
- Or a 20 percent cut in agricultural support.
The report finds that if a unanimous agreement is not reached, the budget would automatically be reduced.
Conclusion
Ultimately, the report concludes, whether Brexit is an opportunity or a threat to the EU "depends entirely on the member states."