Chinese President Xi defends globalisation at Davos: 5 key points to take away
Comments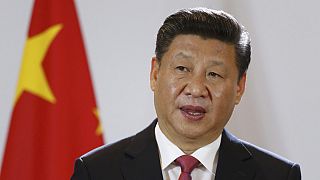 In an historic keynote speech at the World Economic Forum in Davos, Switzerland Chinese President Xi Jinping marked the first appearance by a Chinese leader in the conference's 47-year history with an hour-long address.
In a context of growing anti-globalist sentiment, seen by many as a key factor in the UK's Brexit referendum and Donald Trump's victory in the US election, many looked to Xi to assuage fears that globalism may be abandoned altogether.
Here are five of the key points he covered in his speech.
Globalism 'not to blame' for recent conflict
- For many people, the global financial crisis of 2008 was the fault of globalism. Xi attempted to refute this opinion early in the speech, attributing the event to "excessive pursuit of profits".
- "Many of the problems troubling the world are not caused by economic globalisation," Xi said, adding there is "no point" in blaming economic globalisation as, "this is simply not the case".
Globalism has its risks
- While the Chinese leader described economic globalisation as the result of "growing social productivity" and "natural outcome of scientific and technological advances". He also called it a "double-edged sword," adding that "both developed and developing countries have felt the pinch" of recent downturns in the global economy.
- "One would fail to see the whole picture if he claims something is perfect simply because of its merits or if he views something as useless just because of its defects," said Xi.
– "It is true that economic globalisation has created new problems, but this is no justification to write off economic globalisation altogether," he continued.
Importance of climate change action
- Xi reiterated a previous promise to protect the environment. "It is important to protect the environment while pursuing economic and social progress so as to achieve harmony between man and nature and man and society," he said.
- In 2015, China pledged three billion USD for developing countries to fight climate change.
- "The Paris Agreement is a hard-won achievement which is in keeping with the underlying trend of global development; all signatories should stick to it instead of walking away from it, as this is a responsibility we must assume for future generations."
- "The 2030 (UN) Agenda for Sustainable Development should be implemented to realise balanced development across the world."
Need to decrease disproportionate global wealth gap
- Xi discussed how the disparity of global development is making it difficult to meet people's expectations for better lives, calling the inequality in income distribution and development space "worrying".
- "The richest one percent of the world's population own more wealth than the remaining 99 percent combined."
- "Over 700 million people in the world are still living in extreme poverty."
- "For many families, to have warm houses, enough food and secure jobs is still a distant dream. This is the biggest challenge facing the world today. It is also what is behind the social turmoil in some countries."
Keeping trade & investment avenues open for a "level playing field"
- Following the UK's Brexit referendum and American President-elect Donald Trump's vociferous intentions to impose high tariffs on foreign goods, Xi said: "China's development will continue to offer business opportunities to business communities in other countries."
- "China will keep its door wide open and not close it."
- "… an open door allows both other countries to access the Chinese market and China itself to integrate with the world, and we hope that other countries will keep their door open to Chinese investors and keep the playing field level for us."
- "In the coming five years, China is expected to import $8 trillion of goods, attract $600 billion of foreign investment and make $750 million of outbound investment. Chinese tourists will make 700 million overseas visits. All this will create a bigger market, more capital, more products and more business opportunities for other countries."
Watch the speech in full: